RISC-V (pronounced "risk-five") is an open-source hardware instruction set architecture (ISA) based on established reduced instruction set computer (RISC) principles.
The project began in 2010 at the University of California, Berkeley, but many contributors are volunteers not affiliated with the university.
As of March 2019, version 2.2 of the user-space ISA is frozen, permitting most software development to proceed. The privileged ISA is available as draft version 1.10. A debug specification is available as a draft version 0.13.1.
The FII-PRX100
RISC-V development board
introduction
Suitable for

FPGA

study and training

Fully support FIE310 CPU running and system development

Suitable for user customized RV32G verification and validation

JTAG

interface

for FPGA and

FIE310 CPU download and debug

Support Windows

software

and linux

development environment
GCC compilation toolchain and graphical software development environment

Hardware resource:   

Switchs, Push Button ,

USB to UART

convertor

,

QSPI flash

,

I2C

EEPROM,

100M/

1G ethernet,

USB keyboard mouse,GPIO

,

hdmi transmitter and

camera

etc

.
RISC-V
IPCore user development Guide
This document is edited by Fraser Innovation Inc. Step by step introduce how to develop each RISC-V CPU RTL modules based on RISC-V ISA, Simulations and board verifications, software environment and details on C language development, debug and program
Artificial Intelligence
Voice collection, speech recognition
Image acquisition and image recognition, deep learning
IOT
FII-PRX100 Educational Plaform Product Features:
FPGA part:  XC7A100T-2FGG676I
1MSPS On-chip:  yes
Logic Cells: 

101440

Logic Slices: 15850
Flip-flops: 65200
Memory blocks(36K): 135
Memory block(Kb): 4860
Clock Management Tiles: 6
DSP Slices: 240
System Features:
ADC: On-chip analog-to-digital converter (XADC)

Super Sram

?

IS61WV25616

(2 slices

 

) 256K x 32bit

Spi Flash

?

serial

flash

(

16

M bytes)

JTAG:  jtag Programmable ports
Multifunction: used for other board  (For example: iMX226 camera board, or adv7612 Hdmi in board , etc)

Power Supply?

12V adapter source
Interaction and Sensory Devices:
8 Switches
7 Buttons (up , down, left, right, ok, menu, return)
1 Reset button
8 LEDs
1 4-digit 7 segment display
1 I2c interface (24c02 eeprom)

Expansion Connector:

4 gpio connectors (compatible with digilent Pmod)
2 MultiFunction connectors (connect with iMX226 board, or others

?

Main Chips: xilinx (1.0mm pitch)

XC7A

100

T_FGG

676
Interaction and Sensory Devices
GPIO Interface  (16 ) 2×8 Standard 2.54mm connector (pin)
led output  (8 ) 0603 SMD
8 switchs SMD
7 buttons (Top, Bottom, left, right,center, top left (menu), top right (return)

i2c

24c02 smd

soic

spi

flash MX25L6433F 8-SOP (8M bytes)

usb2uart

ft2232C/H (2

 

uart )

Or

cp2102 (1

 

uart)

jtag

2×5

Standard

2.54mm

connectors

(pin

)

eth

1G CAT5

Ethernet

(rtl8

1

11e)

sram

IS61WV25616

(2

pieces

) 256K x 32bit

Digital tube

7seg (4

)

oasistek TOF-5421BMRL-N

 

H

dmi out adv7511

?

hdmi_adv7511.SchDoc

Test Port? 1×6

Standard

2.54mm

Connectors ?pin?
isc-V Board Two: FII-PRA040 Altera risc-v SOPC AI Cyclone10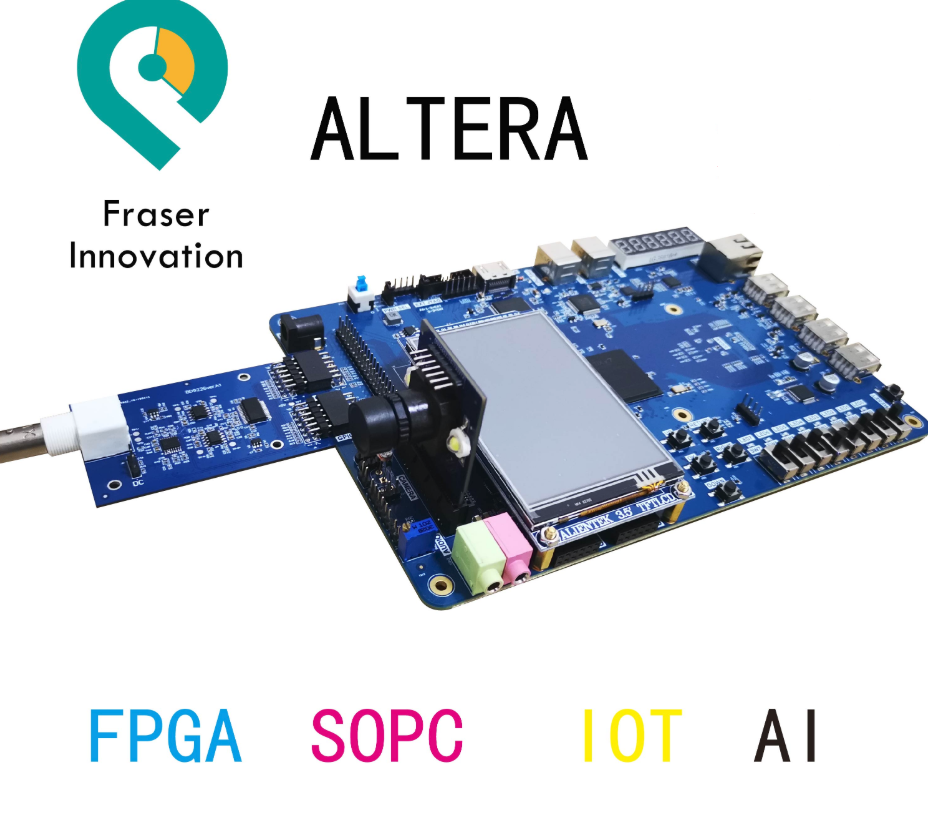 FII-PRA040 Risc-V Educational Platform is a ready-to-use development platform designed around the Field Programmable Gate Array (FPGA) from Intel Altera.
It was designed for use in all fields of FPGA development and experiments.
Communication
Digital Communication DSP?FPGA?
Network
100M/1G Interface?switch VLAN
USB?
USB2.0 Engine Development
CPU?
RISC-V CPU 32bit Ecosystem Dvelopment and Educational Experiments
Artificial Intelligence
Voice collection, speech recognition Image acquisition and image recognition, deep learning
The Risc-V Learning Tutors for PRX100 Risc-V FPGA Boards:
For DPF instruction how to code in Risc-V board, please check the product pages. If you buy one of our products, we will send you detail updated instruction step by step.